Apple Pay
---
Enjoy all the benefits of your ILWU Credit Union Debit or Credit Card with Apple Pay® on the iPhone, Apple Watch, or iPad.* Using Apple Pay is simple, and it works with the devices you use every day. Your card information is secure because it isn't stored on your device or shared when you pay. Paying in stores, online and within apps has never been easier, safer, or more private.
Adding Your ILWU Credit Union Visa to Apple Pay is Simple.*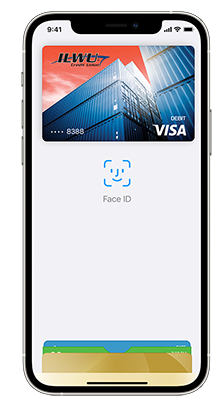 Here's how to get started.
On your iPhone®, open the Wallet app, tap the "+" sign in the upper-right corner, and select Credit or Debit Card, and use your iPhone camera to scan the card information.
On Apple Watch®, open the Apple Watch app on your iPhone and select "Wallet & Apple Pay," then tap "Add Credit or Debit." From there, follow the onscreen instructions.
On your iPad®, go to Settings. Tap "Wallet & Apple Pay" and click "Add Card" and select add Credit or Debit Card. Use your iPad camera to scan the card information.
Be sure to set your ILWU Credit Union Visa Debit or Credit Card as the default card.
Paying is Easy and Secure!
To pay within stores, hold your iPhone near the contactless reader with your finger on Touch ID or using Face ID.® On Apple Watch, just double-click the side button and hold the display of your Apple Watch up to the contactless reader. To pay within apps on an iPhone and iPad, select Apple Pay as the payment method and place your finger on Touch ID or Face ID on newer models.
When you make a purchase with your compatible Apple device, Apple Pay uses a device-specific number and unique transaction code. Your card number is never stored on your device or on Apple's servers, and when you pay, your card numbers are never shared by Apple with merchants.
Where to Pay
Use Apple Pay wherever you see one of these symbols.

If you have any questions setting up Apple Pay®, please see the Resources below or contact us at 866.445.9828.
Easy Instructions from Apple
Learn more about Apple Pay
** For a list of compatible Apple Pay devices, see support.apple.com/km207105..

Apple, the Apple logo, iPhone, iPad, Apple Watch and Passbook are trademarks of Apple Inc., registered in the U.S. and other countries. Apple Pay is a trademark of Apple Inc.